VISIT THE AMUDARYO DISTRICT ONCE!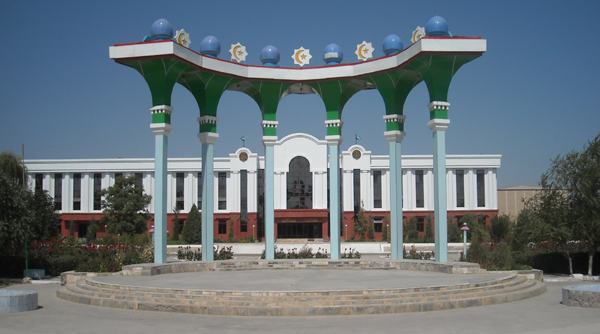 The Amudaryo district is one of the hugest districts in terms of its land size, economic education and economy in the Republic of Uzbekistan. The region is distinctly different from other districts when it comes to its geographic location, sociopolitical position and the historic lifestyle.
If we pay attention to the history of Amudaryo, its roots go to the sacred and esteemed historic handwritten book "Avesto". This book is the moral and historic heritage from our forefathers who lived between the two rivers, the Amudaryo and The Syrdaryo 30 centuries ago. So, the nation of the district Amudaryo, which stretches on either side of the Amudaryo River, is fairly inheritors of this precious moral patrimony. Advancement steps of Karakalpakistan are indirectly connected with those historic roots. Mysteries which represent the lifestyle of our ancestors, who occupied the area from Ustyurt flat and rough lands to Sultan Uvays Mountains, are still unknown; buildings which blossomed once are still full of enigmas. 14 historic premises out of those buildings are in the Amudaryo district. Merely various historic objects found in "Chilpik" settlement represent the period of three thousand years. Therefore inhabitants of Amudaryo district consider delivering and exploring historic premises which include Chilpik, Beshtepa, Jumurtog, Qoratog, Uvlon, Gaur, Kipchak, Mangit settlements located in the district to be their prime duty. Descendants of 92 Turkic tribes live in Amudaryo district. Particularly, inspecting the history of villages, clan and tribes including Kungirat, Kipchak, Kitoy, Nayman, Uygur, Toma, Turkmen, Kazak, Karakalpak, Nazarxon, Os, Sangar, Ocha, Uyshin and Kangli is waiting.

The Amudaryo district like other districts in Uzbekistan was eradicated from its brilliant history roots during despot Soviet Union and was changed to the area which merely produces raw materials. In accordance with the declaration by Supreme Council of the Republic of Uzbekistan on 18th of December in 1957, Mangit (it was part of Khorezm province then), which was created by adding enormous villages of Kipchak in socialist autonomous Republic of Karakalpakistan, has always been raw materials supply center of USSR until independence years. We might know the fact that the life, which was stayed stable and excessively difficult during many years (from 1960 to 1990), was very hard by asking witnesses of those times. There were only one store and ten encampment councils. At most there were two schools, only one club would serve to the community in each district. The majority of inhabitants used to be occupied with the field of agriculture. There was only one central hospital and three village ambulatory care centers in such a sizable district. After Uzbekistan's independence, Amudaryo district commenced to advance in terms of social- moral and educational sphere. Likewise, giving private plots to inhabitants has risen two times since independence. As a result of establishing over thousand farms, cultivation of melons, cucumbers as well as vegetables has been rising for years and exporting those harvests to its neighbors and even to overseas have become a common phenomenon. While the percentage of consuming food including potatoes, wheat, and confectionery, meat-milk together with flour products was the lowest amount in Former Soviet Union in 1990, these days the district has become a giant provider of those food to other regions in need of those food along with veritably to overseas countries. In the district in 2016, the pace of manufacturing industry products, nation-consumed goods and providing agriculture commodities has been arranged to attain the percentages of 118.2%, 115.6 %, 109.1% respectively and these plans are being performed well currently. The merchandises of the companies "Amudaryo Tex", "Asia Silk", "Amudaryo Cleaning Cotton of Impurities Factory" are being exported to several external countries. The employment of habitants is being provided as a result of investments and credits in order to hire new laborers advance industry, agriculture and service fields. For the year of 2016 in the district, the sole prognosis to export two million and 622.1 thousand dollars – worth merchandise has been arranged for five factories in the district and this prognosis shows that exporting is advanced in this region.

In accordance with the resolution - "Additional measures to widen the extend of building houses in villages" made on 3rd of August in 2009 by The President of Uzbekistan, 362 apartments based on model schemes were built within a short space of time. Merely in 2016, 90 model houses were constructed in three localities of the district. It has been arranged to build more 122 apartments in 2017. 528 farms are functioning in the district. Out of that number 249 farms are occupied with various fields. The fields of cocoon as well as cotton industry are major of 507 farms in the area; the Amudaryo district supplies over 254 tons of cocoons, 7500 tons of grain, more than 40 thousand tons of high quality cotton every year. Intensive gardens have been established in 25 hectors of land since the independence. Sandwich panel storeroom has been constructed so as to preserve fruit, vegatebles and other types of food fresh.

Written by Robiya YULDASHEVA,
Correspondent of www.amunews.uz.
Translated from Uzbek into English by Yusupov Ulugbek.